Many questions about the Ford F-250 have come from drivers in Mount Pocono, Tobyhanna, Scranton, and Pocono Pines. To help answer all your questions, Ray Price Ford has created the following 2019 Ford Super Duty F-250 review.
In the coming sections, we'll be hitting on all the aspects of this truck that typical drivers might be curious about, including the horsepower, torque, payload, towing, and off-road capability.
Overall, the Ford F-250 is a stellar model with a thrilling engine lineup, towing capabilities, and impressive power. To learn about the specifics of the model, though, keep reading!
Powertrain Options

Drivers opting for the Ford F-250 will be astounded by the truck's strength. You can equip the model with one of two engines, delivering the type of high-end power you'd expect of such an imposing truck.
The first engine option is a 6.2L V8, which generates an incredible 385 horsepower and 430 lb-ft of torque.
If you're craving even more strength, there's also the 6.7L Turbo Diesel V8 that delivers a jaw-dropping 450 horsepower and 935 lb-ft of torque.
No matter which engine you choose, you'll have plenty of capability as well as a smooth ride, especially with the equipped 6-speed automatic transmission.
Ford F-250 Towing Capacity & Payload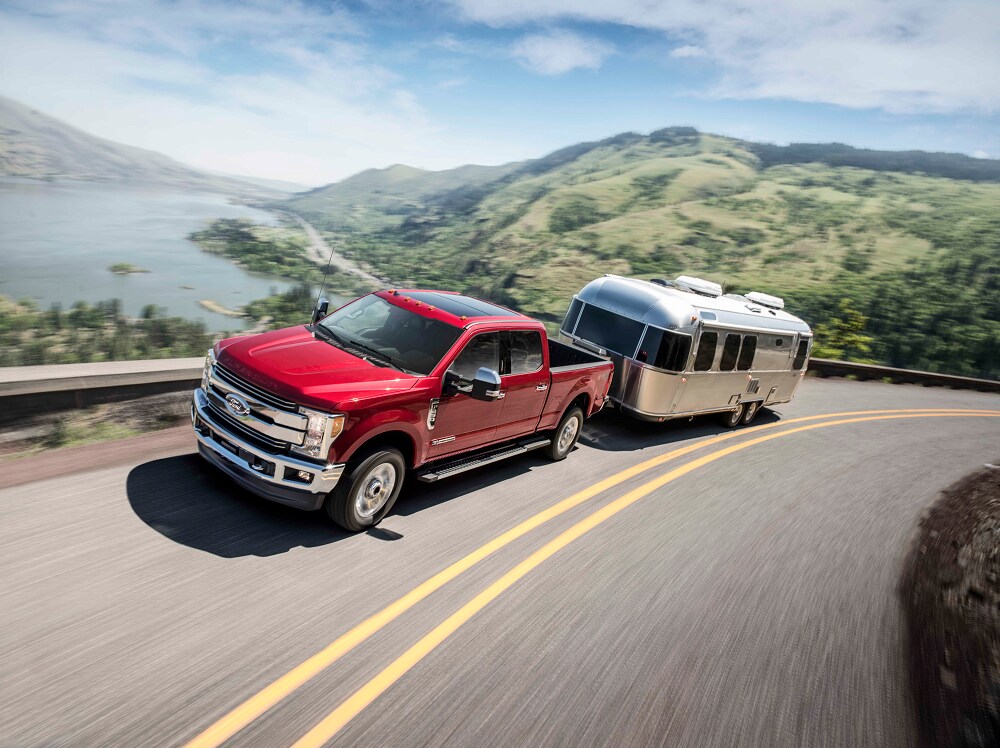 Due to the robust power that the duo of F-250 engines can produce, this Ford truck also flexes remarkable towing and payload capabilities.
Depending on how you configure your truck, there are a few different towing numbers to be aware of:
The conventional maximum towing capacity is 18,000 pounds-a solid number.
In addition to that, the max towing capacity is 18,500 pounds when properly configured.
If towing isn't enough for you to move all your cargo, you can also store up to 4,270 pounds in the bed.
When you put it all together, the Ford F-250 is an imposing truck thanks to its 10,000 pounds of gross vehicle weight rating.
The Ability to Handle Any Terrain or Environment
The Ford F-250 is built specifically for extreme environments, while other vehicles may come up short. To help handle the rigors of these conditions, the F-250 was subjected to temperatures during the development phase that ranged from -20° F to 120° F. Also, the truck was subjected to 4-post frame twists, gravel, dust, water, brine, mud baths, and intentionally worn brakes and broken parts.
The largest in their class, the 4-wheel anti-lock brake rotors help this imposing truck stop with confidence no matter the surface you're travelling over.
The frame of the model itself is composed of high-strength steel with 10 crossmembers for an overall structure that's 24 times stronger than the previous iteration.

Test the 2019 Ford Super Duty F-250 for Yourself!
If you think you're ready to take on heavy-duty jobs around the streets of Mount Pocono, Tobyhanna, Scranton, Stroudsburg, and Pocono Pines with the Ford Super Duty F-250, simply get in touch with the Ray Price Ford staff!