During your search for a brand-new truck, you're likely encountering a lot of different options.  One such option is the Ford F-150, which has become one of the best sellers in the Ford lineup.  Whether you need your F-150 to transport firewood to your home in Tobyhanna, Scranton, or Mount Pocono, or whether you just picked up a housepainting gig in Blakeslee or Pocono Pines, you'll find that it's incredibly versatile.
At Ray Price Ford, we know part of picking out a truck for your business or home use is knowing how efficiently it runs.  As a result, we've decided to outline the general specifics about Ford F-150 miles per gallon so you're able to formulate a comparison between trim levels and make the right choice for your next truck.
Ford F-150 Miles Per Gallon by Trim Level
XL/XLT
With the standard equipment, a 3.3L V6 engine cab, and standard cab and bed selections, you can count on both the F-150 XL and the F-150 XLT to get up to 19 MPG in the city streets, while traveling from job to job locally.  However, if you've got a long-distance job, this truck averages about 25 MPG on the highway.
Lariat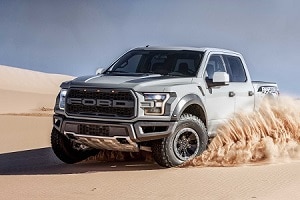 This version of the F-150 comes equipped standard with a 2.7L EcoBoost® V6 engine.  From it, you can expect about 20 MPG when you're dealing with the stop and go of the city, but once you hit the highway, you're going to hit about 26 MPG. Not only will this powerhouse of an engine reduce your carbon footprint, but it can also reduce the amount you're spending at the gas stations.
Raptor
Equipped with a High-Output 3.5L EcoBoost® engine that gets up to 450 hp, you may not expect much in terms of fuel efficiency.  However, you can count on 15 MPG while traversing the city streets, and 18 MPG once you hit the highway on your way home.  Experience the raw power that the Raptor has to offer with admirable fuel economy.
King Ranch/Platinum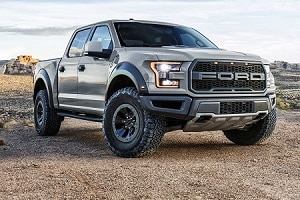 The standard equipment jumps up a notch in the King Ranch and Platinum models to a 5.0L V8 engine that offers up 395 horsepower.  However, it still produces some of the more fuel-efficient numbers for a truck of its size. With 17 MPG in the city and 23 MPG on the highway, you won't be spending all the money you make while running from one contractor job to the next.
Limited
Much like the Raptor, the Limited is equipped with a 3.5L EcoBoost® engine, although this one is not high-output.  You can count on about 375 hp, but you'll also be getting about 18 MPG in the city and about 25 MPG on the highways. Break the rules, not the bank, in your F-150 Limited.
Related Post: Ford F-150 Trim Levels Review
F-150 Fuel Efficiency: Find Out More
We welcome our customers from the Mount Pocono, Tobyhanna, Scranton, Pocono Pines, and Blakeslee areas to come out and see what the F-150 has to offer in person.  Get behind the wheel by scheduling a test drive and experience the power of the Raptor or see what the King Ranch can do.  At Ray Price Ford, we're here to make your fantasy truck a reality.