---
Capable pickups like the Ford F-150 and Chevrolet Silverado should have the kind of power and durability to move your heaviest cargo. It's also nice if these famed trucks place a great emphasis on fuel economy, right? So, which one has what you need in your next truck?
Our goal at Ray Price Ford is to answer this exact question for drivers in Blakeslee, Pocono Pines, Scranton, Mount Pocono, and Tobyhanna, PA, using this 2021 Ford F-150 vs. Chevy Silverado comparison.
We'll be touching on a range of interesting topics, helping you decide which truck is ideal for your lifestyle. From comparing the towing capacity and payload specifications to looking at off-road-oriented trim levels, we'll leave no stone unturned. Of course, if you have questions, you can reach out to our helpful staff!
2021 Ford F-150 vs Chevy Silverado: Specs
The 2021 Ford F-150 and Chevy Silverado both offer a variety of engines. Chevy provides six options, while the F-150 offers seven. The F-150 stands out for not only delivering a more diverse and powerful engine lineup than the competing Chevrolet Silverado 1500, but also by introducing a hybrid powertrain to the segment for the first time! 
| | | |
| --- | --- | --- |
| Ford F-150 |   | Chevrolet Silverado |
| 3.5L PowerBoost™ Full Hybrid V6 | Engine | 6.2L EcoTec3 V8 |
| 430 horsepower | Horsepower | 420 horsepower |
| 570 lb-ft | Torque | 460 lb-ft |
| 10-speed SelectShift® automatic | Transmission | 10-speed automatic |
The SelectShift® transmission on the F-150 gives you the ability to take over the gear shifting and drive manually without a clutch. The Silverado doesn't have this same ability.
While each transmission has 10 gears available, the Chevy Silverado only offers the 10-speed transmission on two of its powertrains. Other automatic transmissions include a 6-speed and 8-speed. 
The Ford F-150 makes the 10-speed SelectShift® transmission standard on all of its engine options. 
2021 Ford F-150 vs Chevy Silverado: Payload
With so much power under the hood, the 2021 Ford F-150 and Chevy Silverado were made to be capable in any situation, which includes everything from traversing over steep terrain to carrying heavy loads of cargo.
While both can tow a big trailer and handle a hefty payload with ease, the Ford F-150 gives you a payload gap that is tough for the Silverado to overcome.
| | | |
| --- | --- | --- |
|   | 2021 Ford F-150 | 2021 Chevrolet Silverado |
| Maximum Payload | 3,325 pounds | 2,280 pounds |
---
2021 Ford F-150 vs Chevy Silverado: Towing Capacity 
Towing is often the first priority for folks that need a full-size truck. With each passing model year, brands like Ford and Chevrolet endow their trucks with greater and greater towing capacities. So, how does each truck stack up to the other for 2021? 
Well, when you have the models properly equipped, it's the F-150 which gives you more overall capability. 
| | | |
| --- | --- | --- |
|   | Ford F-150 | Chevrolet Silverado |
| Maximum Towing Capacity  | 14,000 pounds  | 13,300 pounds  |
2021 Ford F-150 vs Chevy Silverado: Safety Features
From unloading your trailer to going off-roading, the 2021 Ford F-150 has you covered with the Ford Co-Pilot360™ system, along with Pro Trailer Backup Assist™. By simply turning a knob on your dashboard, the Pro Trailer Backup Assist™ can steer your truck and trailer into place, so you can unload your cargo in the most convenient spot.
When you're first hooking up to your trailer, the Rear View Camera system will switch your dashboard monitor to a live picture of your hitch and what's behind you. Plus, the Dynamic Hitch Assist feature helps you line up perfectly with guidelines on the display.
There's just as much technology up front too. A forward-facing camera features a wide lens that gives you a close-up view of what's in your path. It's great for scoping out rocks and ditches when you're off-roading.
Finally, the intuitiveness and refinement of Active Park Assist™ 2.0 is something you won't find in any Chevrolet Silverado trim level-it's one of the most impactful and helpful features the F-150 offers. If you've ever found it tough to park your truck in a confined area, Ford has you covered with its Active Park Assist™ 2.0 setup. All you have to do is line up your F-150 with the parking place, be it perpendicular or parallel. Once you do that, shift to neutral and hold the Active Park Assist button. From there, your F-150 will accelerate, decelerate, and steer itself into place! 
Further Off-Roading Exploration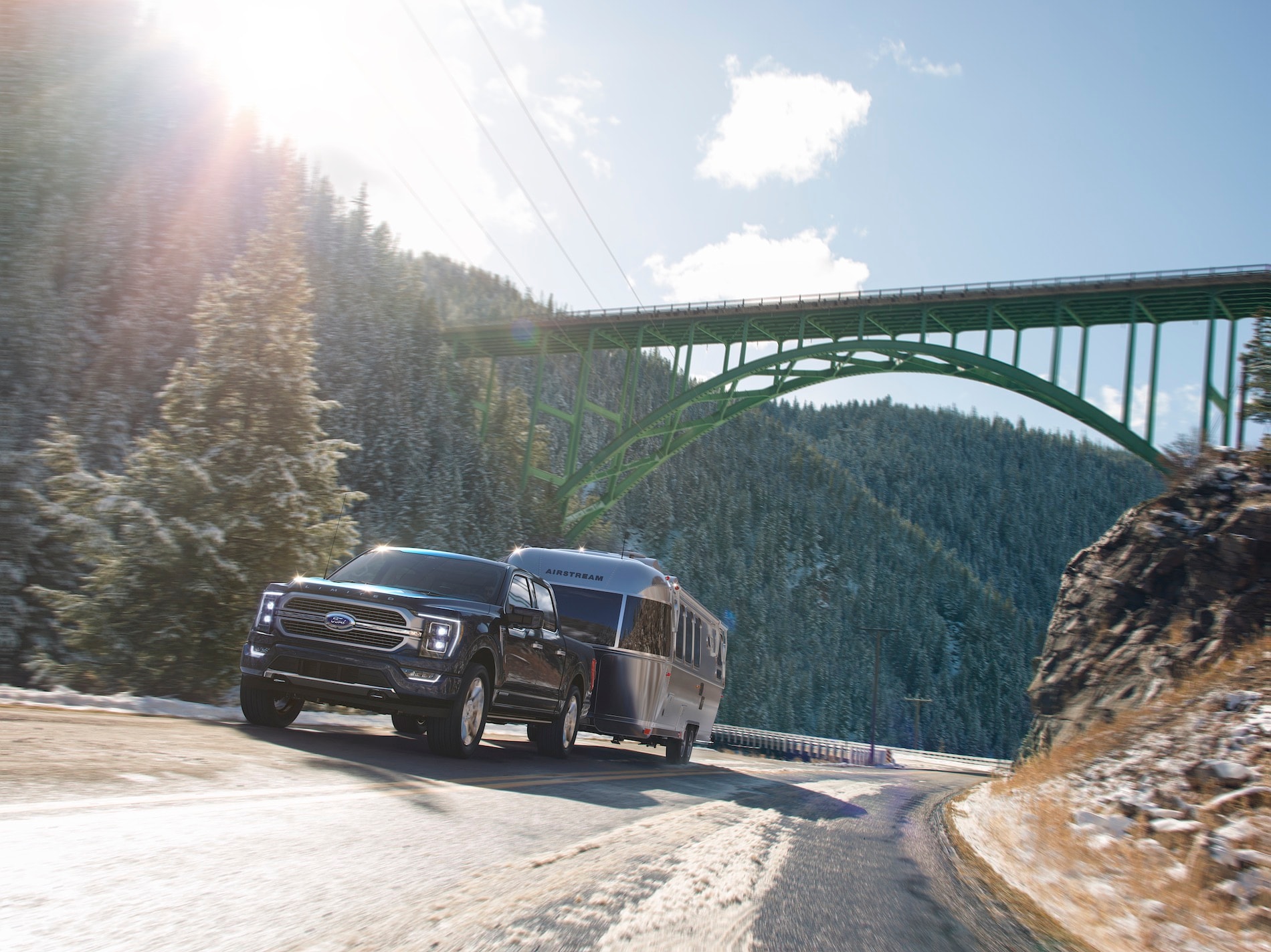 While you can add a few features for off-roading travel to any trim of the Ford F-150 and the Chevy Silverado, to go all-out, you'll want to pick the specific off-road-oriented trim for each truck. These two models compete against one another for adventurous superiority. Yet, it's Ford which comes out ahead, thanks to a suite of more advanced off-roading technology.The 2021 Ford Raptor is the trim you'll want to select when trying to get the most all-terrain capability from your F-150. With the Raptor in hand, you can enjoy features such as sport-tuned shock absorbers, plus front and rear Fox Racing Shox™ with live valve technology. These are the largest shocks which have ever been put into a Ford Raptor. 
What all these fancy systems do is provide unparalleled poise and stability off-road. Also of note are the position-sensitive damping controls, which work to resist heat buildup and react quickly to changing terrain conditions. There's plenty of other goodies in the Raptor, too, such as the 5-link rear suspension with Panhard rod and the 24-inch coil springs. 
A comparative option for the Chevrolet Silverado is the Custom Trail Boss trim with the accompanying Z71 Off-Road package. If you do decide to get this tacked-on package, your truck will sport an off-road suspension with Rancho™ shocks. These are worthwhile, but they don't constantly adjust the suspension of your truck in the same way that the Fox Racing Shox™ with live valve technology would!
Maximum Fuel Economy Rating for 2021 Ford F-150 & Chevrolet Silverado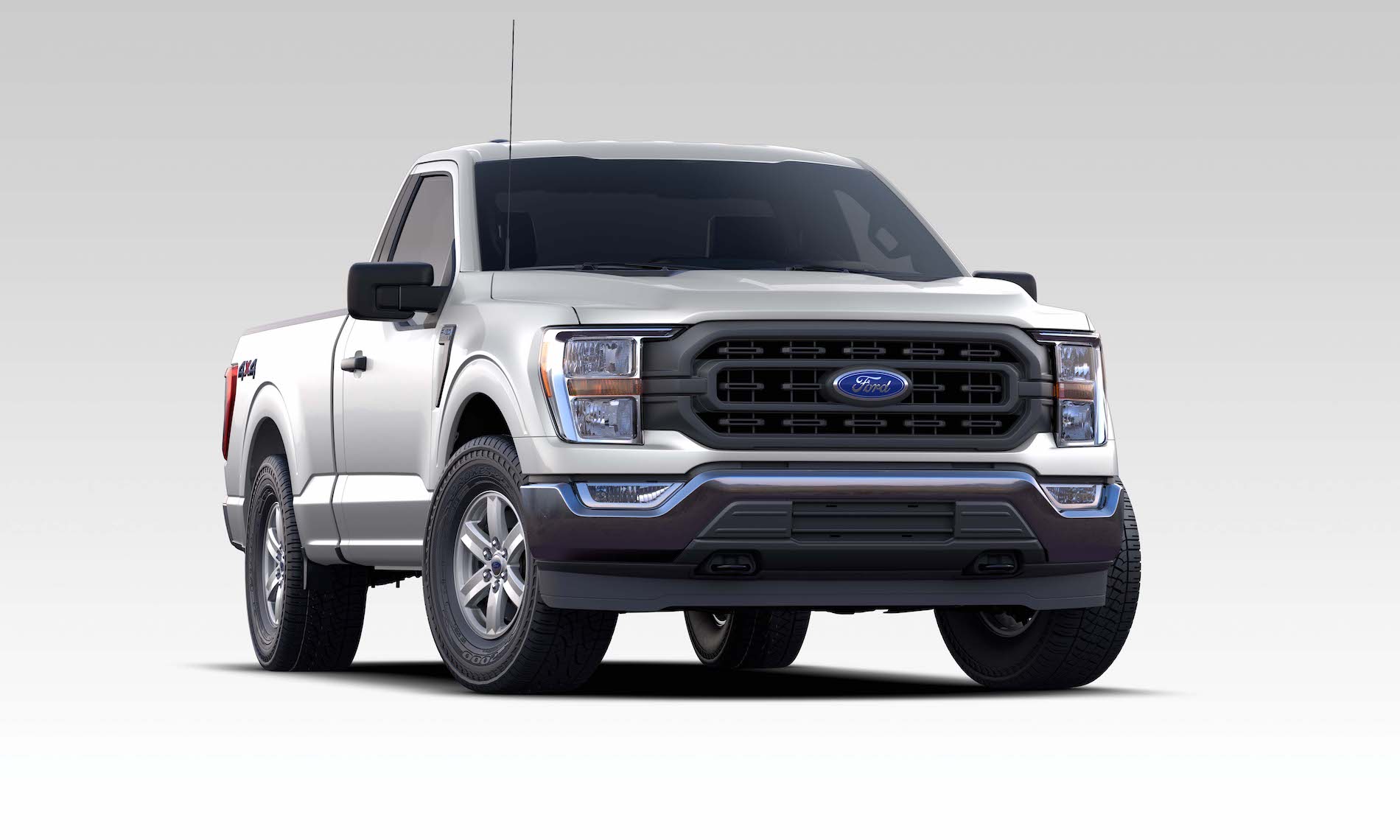 Everyone has unique priorities when truck shopping, yet a pretty common desire is to enjoy a truck which gets the most from each tank of gas. As mentioned earlier, the introduction of the Ford F-150 hybrid engine gives it a significant leg up against other full-size trucks, such as the Chevy Silverado. So, just how big is the gap? Well, according to EPA estimates, the most efficient Chevy engine in the Silverado is a 3.0L Turbo-Diesel engine that reaches 23 city MPG. The Full Hybrid V6 engine of the Ford F-150 provides you with an EPA-estimated 24 city MPG when in 4x4 setup, and an EPA-estimated 25 city MPG if you choose the 4x2 arrangement. What's also important to note is that the F-150 in this instance is still delivering tremendous power outputs, to the tune of 430 horsepower and 570 lb-ft of torque. The diesel engine lags behind in both categories with just 277 horsepower and 460 lb-ft of torque. 
An All-Electric Full-Size Truck? 
As the automotive world moves further toward electrification, Ford continues to be on the cutting-edge of this paradigm shift. If an all-electric truck appeals to you, you won't have to wait much longer for one to hit the open market. Ford has released insight on the much-anticipated Ford F-150 Lightning. Just like Ford introduced the hybrid motor to the full-size truck segment, this 2022 model will be the first appearance of an all-electric, full-size truck. 
There are other parallels between the impressiveness of the Ford F-150 hybrid engine and this upcoming all-electric beast. The 2021 hybrid registers as the highest-output engine in the F-150 lineup, yet the all-electric truck will outdo even those impressive marks by offering 563 horsepower and 775 lb-ft of torque. Ford estimates this truck will crush a 0 to 60 MPH dash in the mid-4-second range when equipped with an extended-range battery! 
When you compare all this to the current Chevrolet Silverado and the upcoming releases Chevy has for their famed truck, it's clear they're lagging behind in the development of alternative powertrains. Not only do these hybrid and all-electric versions of the Ford F-150 give you impressive power and acceleration, they're also going to be startlingly inspiring in the efficiency department. That the current and most efficient Silverado engine is a diesel shows how far apart these two long-time rival trucks are in terms of progressing and adhering to modern market interests and trends. 
---
2021 Ford F-150 vs Chevy Silverado: Ford Gets the Win
When it comes down to a like-for-like comparison, it's the Ford F-150 which bests the 2021 Chevy Silverado. The edge comes in the discrepancies between off-roading capability, towing, payload, and safety. Plus, Ford has some exciting things in store for the Ford F-150, which will give you the previously unavailable option of enjoying a fully electric, full-size truck. 
Visit Ray Price Ford to test drive the versatile Ford F-150 in any of your favorite trims. You'll be impressed with how it handles the streets of Blakeslee, Pocono Pines, Tobyhanna, Mount Pocono, and Scranton, Pennsylvania. To learn more about this 2021 Ford F-150 vs. Chevy Silverado comparison, contact us or visit our dealership.