Why are my brakes grinding? is a common question folks ask themselves while driving around Tobyhanna, Mount Pocono, Scranton, Pocono Pines, and Blakeslee, PA. You know your vehicle better than anyone, so if an unusual grinding or clanking noise occurs, you're going to take notice and want to find a solution. That's where we, the devoted staff of Ray Price Ford, come in.
Our service center deals with grinding brakes and all other automotive needs on a daily basis. So, we're here to provide a better understanding of why brakes grind and what you can do about it!
Why Do Brakes Grind?
 Are you hearing a grinding, crackling, or churning sound as you attempt to slow your vehicle down? If so, your brakes are worn. After so many miles, brake pads and rotors are going to start fading, decreasing their effectiveness and sometimes making odd noises.
The rate at which your brakes wear down depends on your specific model and a number of other factors. For example, driving a high performance sports car means your brakes are liable to wear down quickly due to all the abrupt stops from high speed. Friction wears the brakes down, similar to the brakes of large trucks that are tasked with stopping tens of thousands of pounds at once.
What you expose your brakes to matters as well. Daily driving in standstill traffic or exposure to inclement weather can cause the brakes to wear down more rapidly.
How Long Do Brakes Typically Last?
The factors discussed in the last section will in part answer the question of how long brake pads and rotors last. Still, the general consensus is that your brakes should hold out for at least 30,000 miles and sometimes as long as 60,000 miles.
If you're curious about your specific model, you should look to the owner's manual. There, you'll find a specific service layout that details when your brakes should be replaced!
Other Signs of Worn Brakes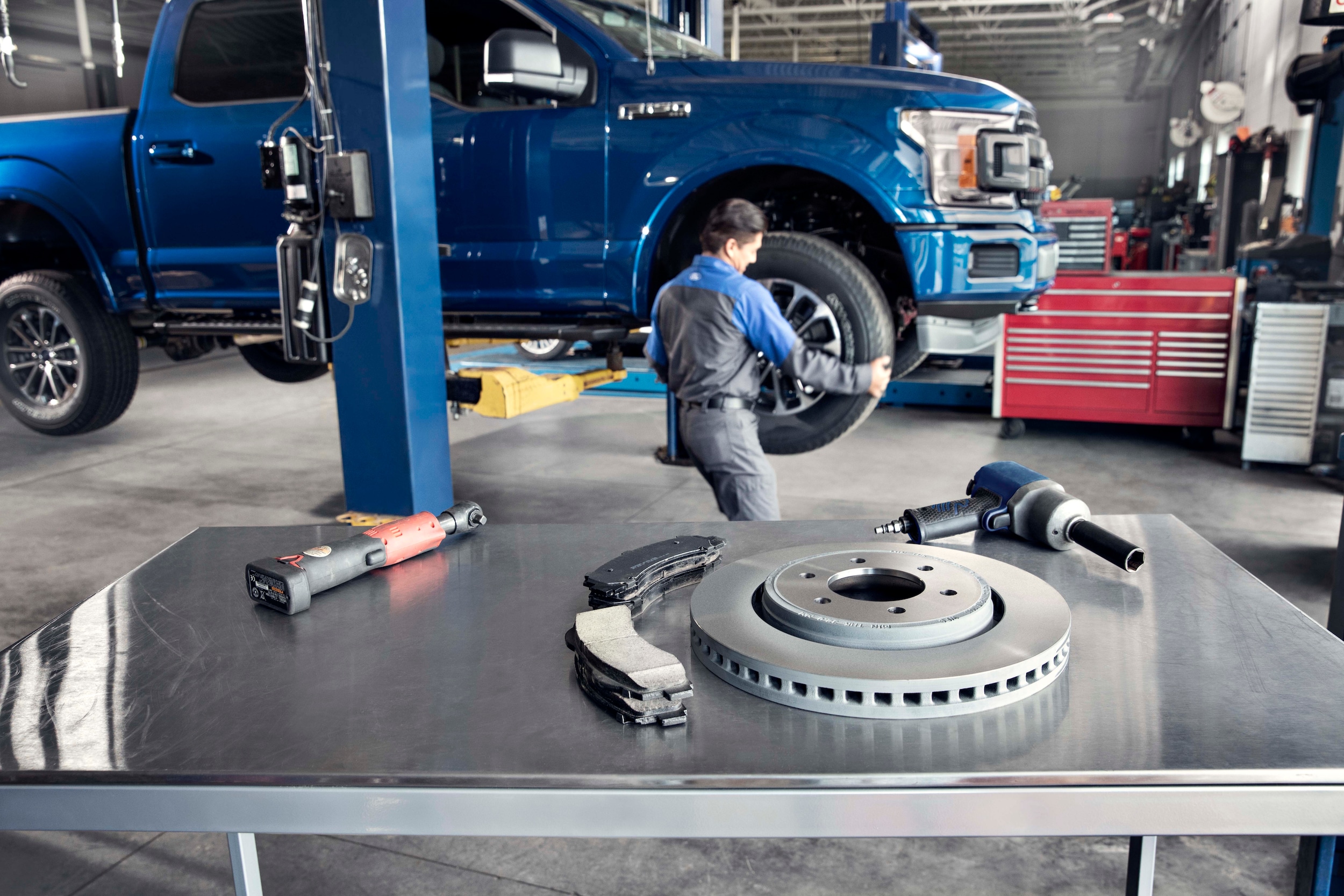 Grinding brakes are an obvious sign that your vehicle needs to stop into the shop. Once the brakes begin to fade, they can compromise the overall safety of your model. There are other signs that your brakes need to be replaced, though.
One of the most prominent is excessive pulling in any direction. If you're coming to a stop and your vehicle goes left or right even as the wheel is pointing straight, that anomaly can likely be traced back to the brakes.
Brake pedal feel is another sign. If you're pressing that brake pedal down to the floor before your vehicle bites and begins to slow down, your brakes are likely worn and will need to be replaced.
Brake Repair & Replacement at Our Service Center
If your brakes need to be replaced or just repaired around Mount Pocono, Tobyhanna, Pocono Pines, Scranton, or Blakeslee, the Ray Price Ford service shop is your go-to!
Don't wait until that grinding noise is at full volume, though. If you hear grinding or notice any of the symptoms of worn brakes we discussed, it's best to visit the shop as soon as you can!