For many drivers in the Mount Pocono, Tobyhanna, and Scranton areas, a car is one of the first big purchases they make, so it's no surprise we're often asked questions like, "How can I get an auto loan with no credit history?"
We wanted to help our Blakeslee and Pocono Pines area customers answer this question, so the team at Ray Price Ford create a quick auto loan guide. If you have additional questions, feel free to reach out to our finance center at any time.
How to Get an Auto Loan with No Credit History
If you have no credit history, there are two ways to secure an auto loan:
Make a higher down payment
It's generally recommended that drivers with little or no credit make a down payment of at least 20% to 25%. By putting down a hefty payment upfront, you'll let the lender know that you're dedicated to your automotive purchase and have taken the time to save up for it.
Paying more upfront also reduces the amount you're asking the institution to loan you, decreasing the perceived risk. This benefits you as well because you'll have less to pay back and may accrue less interest overall.
Have a Co-Signer
Having a co-signer is another great way to get an auto loan with no credit history. If you have a friend or family member who has good or excellent credit, ask them to be on the loan with you if you're unable to secure one by yourself.
A co-signer on your loan agrees to be equally responsible for payments if you need a little help at any point during your loan. If their credit history is especially good, the lenders may even offer a loan with a lower interest rate.
What Do You Need to Apply for a Loan?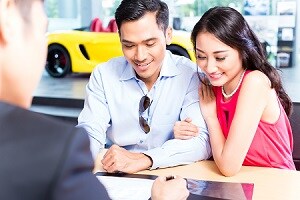 If you apply for a loan with a car dealership, you'll have the advantage of working with a team of experienced auto finance advisors who have built relationships with a wide network of local lenders. They'll work with you one-on-one to secure the right loan for you.
To help them out with this process, it's recommended that you bring along a few pieces of information that the lenders will want to see:
While you don't need a bank account to secure an auto loan, bringing along a bank statement will give the lenders a better idea of your financial situation and show them that you have money saved.
Proof of Employment and Income
Bring pay stubs from the past couple of months to prove to the lenders that you have a steady job and enough income to cover your monthly payments.
Proof of Identity and Utility Bills
Lenders, understandably, want proof that you are who you say you are when applying for an auto loan. Bring a form of ID and a few utility bills. This will not only provide proof or residence, but will also show that you have experience making regular and on-time payments.
Learn More About No-Credit Auto Loans
If you want to learn more about how you can get an auto loan with no credit history, come talk to the team at Ray Price Ford here in the Mount Pocono and Tobyhanna areas. We're excited to help you get behind the wheel of your next car.
Drivers in Scranton, Pocono Pines, Blakeslee, and other local areas can contact us to learn more today!