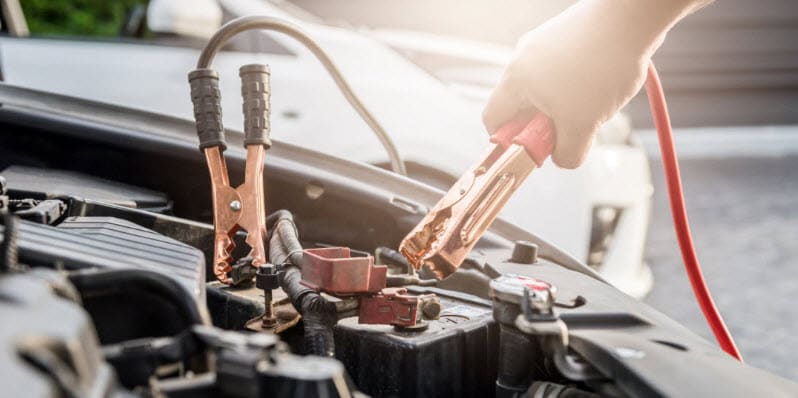 If you're having trouble starting your car near Mount Pocono or Pocono Pines, it's possible that your car battery is the culprit. It may just need a good charging, or it could be dead, in which case you'll need a car battery replacement.
We at Ray Price Ford can handle battery replacement for drivers in Tobyhanna, Scranton, Blakeslee, and beyond, so they can get back out on the open roads in a functioning, reliable vehicle!
Car Battery Resources:
Signs You Need a New Car Battery
How do you know you need a car battery? We can test it for you to be sure that it doesn't just need to be charged, but here are some signs to look out for that it's time for a whole new one:
Check Engine Light. Sometimes, when your battery power is weak, the check engine warning light will illuminate.
Corrosion Around Cables/Terminals. A sign of leaking battery acid.
Slow Engine Crank. Your engine may take longer than usual to start, only doing so after slow and sluggish cranking.
Swollen Battery Case. Caused by extreme temperatures.
You've Already Jumped it a Lot. This is one of the most reliable signs, as it indicates your battery can't hold a charge. If you've had to jump it several times in one week, you probably need a new battery.
How We Approach Battery Service
When you visit our service center, our trained and certified technicians are here to get you the most value from your repairs. That means, if your current battery still has life left in it, we'll figure that out by testing the battery and potentially saving you the necessity of a full replacement.
If you do need a battery replacement, we'll do it quickly and accurately, so you can get back to the roads of Scranton, Tobyhanna, or Blakeslee as soon as possible. Different battery technologies work better for different vehicles, driving habits, and types of use, and we'll help you find the right, OEM-recommended battery for you.
Schedule Your Car Battery Replacement Today!
If you need battery testing or a car battery replacement, the folks at the service center at Ray Price Ford can make that happen. We proudly serve drivers from Mount Pocono to Pocono Pines and beyond. Make your service appointment today!
Contact Us
Showroom Hours
Monday

9:00AM-8:00PM

Tuesday

9:00AM-8:00PM

Wednesday

9:00AM-8:00PM

Thursday

9:00AM-8:00PM

Friday

9:00AM-8:00PM

Saturday

9:00AM-4:00PM

Sunday

Closed