Every certified pre-owned Ford vehicle undergoes what's called a Ford 172-point inspection to ensure that it meets the high standards of Ford. On this page, shoppers in the areas of Mount Pocono, Tobyhanna, Scranton, Pocono Pines, and Blakeslee will find all kinds of information about the Ford certification process, including the 172 point inspection.
Read ahead to get started. Don't hesitate to give us a call at Ray Price Ford at any point with questions you may have!
What is a Certified Pre-Owned Car?
Certified pre-owned cars are a type of used cars. However, certified pre-owned cars are unlike other used cars in the sense that they have been thoroughly inspected, refurbished, and restored to its former glory when it was a new car.
Certified pre-owned cars are also usually late-year models and have under a certain number of miles on their odometer. This number differs based on the automaker-each manufacturer sets its own standards for certifying pre-owned vehicles.
How Does a Ford Vehicle Become Certified?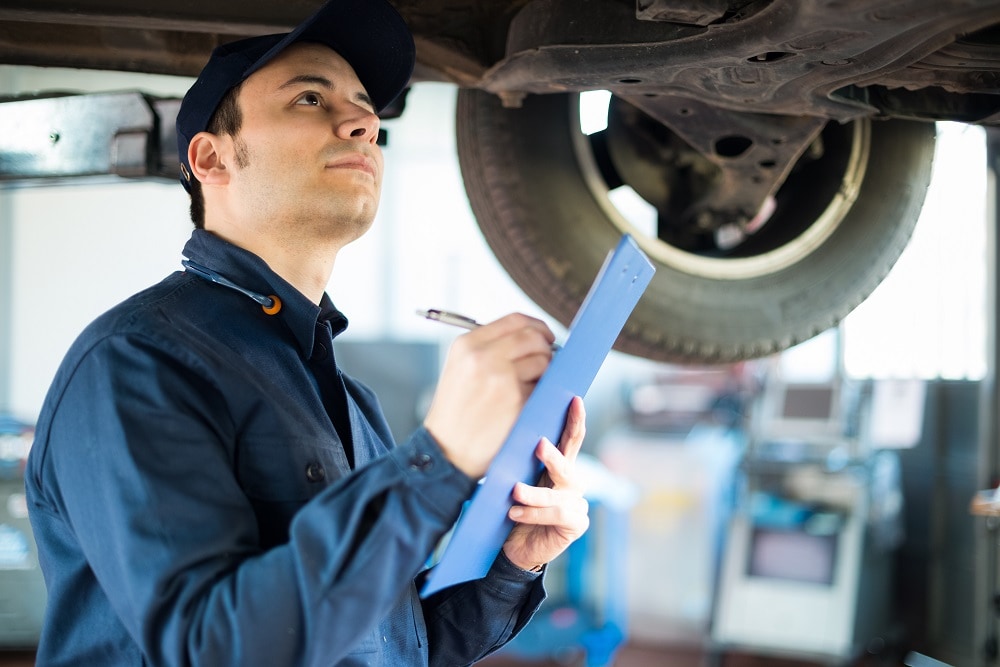 For a pre-owned Ford vehicle to become a certified pre-owned vehicle, they need to meet several different standards. For starters, a pre-owned Ford vehicle can't be certified if it's more than six years old. It also can't be certified if it has more than 80,000 miles on its odometer.
The Ford vehicle being considered for certification also needs to have a relatively clean CARFAX® Vehicle History Report™. If any of the following things are on this report, the Ford vehicle being considered cannot be certified:
Vehicle was in a flood
Fire damage
Frame damage
Vehicle had a salvage title at any time
Branded title
Odometer issues and/or tampering
Accident history
Questionable vehicle title history
The inspection of the vehicle's CARFAX® Vehicle History Report™ is one of the 172 points conducted during the 172-point inspection of any potential certified pre-owned Ford.
Related Post: Certified Pre-Owned Buying Checklist
What Does the Ford 172 Point Inspection Cover?
The 172 point inspection that each certified pre-owned Ford goes through covers the whole vehicle from top to bottom and hits on all the following categories:
| | |
| --- | --- |
| Vehicle history | Windows and door locks |
| Body panels and bumpers | Luggage compartment |
| Doors, hood, decklid, and tailgate | Fluids |
| Grille, trim, and roof rack | Engine |
| Glass and outside mirrors | Cooling system |
| Exterior lights | Fuel system |
| Airbag and safety belts | Electrical system |
| Audio and alarm systems | Frame |
| Heat/vent/AC/defog/defrost | Exhaust system |
| Interior amenities | Transmission, transaxle, differential, transfer case |
| Carpet, trim, and mats | Tires and wheels |
| Seats | Brakes |
| Sunroof/moonroof/convertible tops | Tires and wheels |
Throughout this 172-point inspection, the Ford factory-trained dealer technicians will make a note of any part that doesn't meet the high standards of the Ford certified pre-owned program. At the end of the inspection, these parts will be replaced with new factory-authorized parts to restore the vehicle to its former like-new glory.
Still Have Questions About Certified Pre-Owned Fords?
We at Ray Price Ford are proud to provide helpful information resources like the one on this page. Shoppers in Mount Pocono, Tobyhanna, Scranton, Pocono Pines, and Blakeslee who still have questions about car point inspection or want to know more about our certified pre-owned Ford inventory should give us a call at the dealership today!