When it comes down to it, car-shoppers around Mount Pocono, Tobyhanna, Scranton, Pocono Pines, and Blakeslee often end up comparing the 2019 Ford EcoSport vs. Chevy Trax vs. the Jeep Compass. If you find yourself in this predicament, let out a sigh of relief as the staff at Ray Price Ford has completed this comparison for you.
In the coming sections, we'll be going over several traits that help define each model, including the safety features, the interior technology and connectivity, as well as the performance.
Performance Perks & Features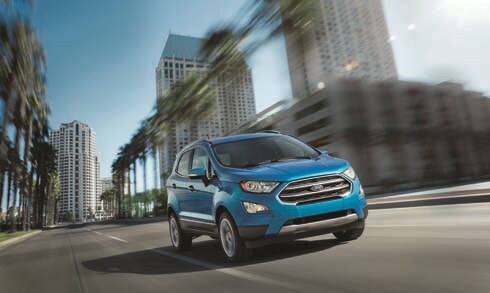 There are numerous aspects that go into creating a high-performance model. Various features, such as the suspension, the drive system, and technology, are why the Ford EcoSport gets the nod over competing options in the Jeep Compass and Chevy Trax.
For starters, the Ford EcoSport is delightfully engaging no matter what surface you roll over thanks to the Intelligent 4WD System. 
In addition to that, there's the available sport-tuned suspension that eases you comfortably in and out of turns while absorbing road imperfections with composure.
Other features, such as Torque Vectoring Control and Traction Control, go a long way towards improving day-to-day travels. 
The Chevrolet Trax and Jeep Compass have unique sets of performance features as well, but their highest available options can't compete with the refinement of the Ford EcoSport.
Keeping You Connected While on the Go
If you're hoping to find an SUV with a user-friendly infotainment system, the Jeep Compass, Chevy Trax, and Ford EcoSport all perform well. However, the EcoSport maintains a small edge thanks to its streamlined interface.
The SYNC® 3 infotainment system serves as your infotainment nerve center in the Ford EcoSport and comes equipped with additional technology, such as:
A voice-activated navigation system
FordPass Connect™ with Wi-Fi Hotspot
8-inch touchscreen display
SiriusXM® Satellite Radio
A wealth of attractive infotainment technology is found in the Jeep Compass and Chevy Trax, such as connective interfaces, navigation, and more. However, the easy-to-understand interface of SYNC® 3 with the robust features list of the Ford EcoSport give it an advantage.
Safety for Every Scenario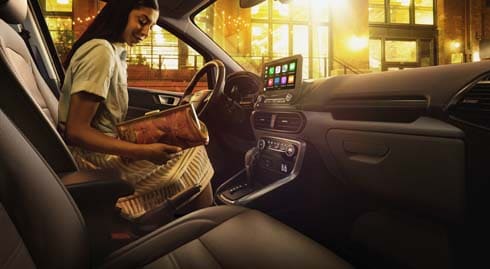 Safety is a prominent priority for most drivers, and the Ford EcoSport as well as the Jeep Compass and Chevy Trax work to keep you protected no matter where the road goes.
Ford, in line with other brands of the segment, offers a Blind Spot Information System called BLIS® that comes with Cross-Traffic Alert. 
Where the Ford EcoSport sets itself apart from other options, including the Jeep Compass and Chevy Trax, is with features such as MyKey®, which will teach teen drivers good habits by mandating safety belt usage, limiting the top speed, and decreasing or limiting audio volume.
In the End, the Ford EcoSport Gets the Nod
After a review of various specifications that may appeal to drivers in Mount Pocono, Tobyhanna, Scranton, Stroudsburg, and East Stroudsburg, the Ford EcoSport seems to be the clear choice. So, get in touch with Ray Price Ford to put together a test drive at a time that works for you!
Source: https://www.ford.com/suvs-crossovers/ecosport/models/?searchid=927511822|46690926672|314819119676|&ef_id=EAIaIQobChMIyY6y5vSJ4gIVQ0SGCh3WDg54EAAYASAAEgKrcPD_BwE:G:s&s_kwcid=AL!2519!3!272517027542!e!!g!!ford%20ecosport%20spec