The Ford Edge gets an EPA-estimated 17 to 21 city MPG and 24 to 29 highway MPG. There are several factors to consider, however, if you want to maximize your fuel economy during your drives through the Mount Pocono, Tobyhanna, and Blakeslee areas.
To help you maximize your Ford Edge miles per gallon and minimize time spent at the pump around the Scranton and Pocono Pines areas, the team at Ray Price Ford has put together this exploration of everything that factors into this SUV's fuel efficiency.
Ford Edge Miles Per Gallon: Engine Specs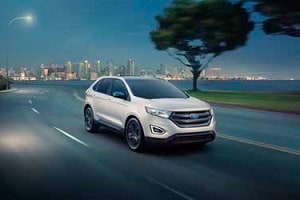 There are three engines available in the Ford Edge, each with different capabilities of how many miles per gallon they can achieve:
3.5L V6: 280 horsepower, 250 lb-ft of torque. 17 city MPG, 23 to 26 highway MPG
2.0L EcoBoost® I-4: 245 horsepower, 275 lb-ft of torque. 20 to 21 city MPG, 27 to 29 highway MPG
2.7L EcoBoost® V6: 315 horsepower, 350 lb-ft of torque. 17 city MPG, 24 highway MPG
If your goal is to maximize your power output, the 2.7L EcoBoost® V6 engine is the way to go; however, to get the most out of your SUV's fuel economy, we recommend the 2.0L EcoBoost® I-4 engine. 
Equipped with front-wheel drive (FWD), this engine manages an EPA-estimated fuel economy of 21 city/29 highway MPG.
This option also includes Auto Start-Stop Technology which helps you prevent fuel waste by turning off the engine when you're stopped in traffic or at a red light, then seamlessly turns it back on when you hit the accelerator.
Efficient Technology
One of the reasons why the Ford Edge can manage such high rates of miles per gallon while putting out so much power is its EcoBoost® engine. These engines use a turbocharger to pressurize surplus air into the combustion chamber. 
This provides almost instant on-demand power, improves output per liter, and ensures no energy goes to waste. Additionally, they utilize direct injection to optimize energy usage by delivering fuel directly into the combustion chamber.
The EcoBoost® engines can also be paired with an Intelligent All-Wheel Drivetrain (AWD) that actively monitors your driving conditions and automatically redistributes torque as necessary to maximize traction. 
This is a versatile technology that can help you improve your grip on wet or snow-covered roadways. It also maximizes fuel efficiency by backing off and operating in FWD during smooth, open driving conditions, such as on the highway, when added traction isn't necessary.
Ford Edge Exterior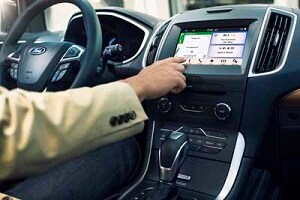 The Ford Edge is designed to turn heads, but this exterior is also engineered with aerodynamics in mind so that it can cut through wind resistance and reduce drag. 
It includes a rounded front body that allows air to wash over this SUV while intakes on both sides of the front grille push air out and around the Edge to reduce resistance.
In the rear, you'll find an elongated spoiler that helps control air flow and smooth out turbulence, giving you a silky-smooth, efficient ride. 
To learn more about the aerodynamic exterior of the Ford Edge, we recommend coming to see it in person. Contact us now to schedule a test drive!
Talk to Us About the Ford Edge MPG
If you want to explore the Ford Edge miles per gallon capabilities up close, come to Ray Price Ford, conveniently located right near the Mount Pocono and Tobyhanna areas. 
We'll walk you through the different features that can help maximize your fuel efficiency and even get you out for a spin around Scranton, Pocono Pines, and Blakeslee.
Contact us to take a test drive today!