The Ford Edge is a reliable midsize SUV you can find at Ray Price Ford. Our Ford dealership, located near Mount Pocono, Tobyhanna, and Scranton, is proud to sell tires for the Edge that make your drives easy and provide the best possible fuel economy.
If you're traveling through Pocono Pines or Blakeslee, it's important to have the right tires for your Ford SUV.
Installing Ford Edge Tires
Our service technicians will always find the best possible fit for your vehicle, which includes the  Ford Edge. We have the right tires for the Edge and every other Ford vehicle, and can perform any tire installation at our service center.
The Edge does offer optional P235/60R18 all-season snow chain-compatible tires, perfect for the winter weather. 
These tires provide a reliable grip on the roadways and don't compromise performance of the vehicle.
The Ford Edge Sport also comes with optional summer-only performance tires. 
These tires must be on the 21-inch premium dark tarnished low gloss-painted aluminum wheels, which are available on the Sport trim. 
Once they are, it truly gives the Edge a certain sense of beauty.
Our Ford Tire Center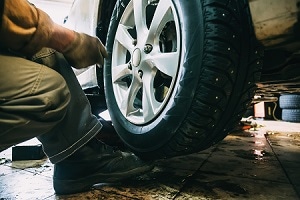 Getting to your final destination is always the most important thing on your mind. Do so with tires that are the perfect fit for your Ford Edge. Our tire service center technicians are standing by, ready to assist with any tire needs.
Wondering if your vehicle needs new tires? If you've noticed vibrations throughout the cabin, or have consistently low tire pressure despite filling them with air, it may be time to replace the tires. 
Other signs of aging tires include cracks or bubbles forming, along with low tire tread. If the tread is no longer at an acceptable level, it becomes harder to brake the vehicle.
Schedule a tire center service appointment today!
Ford Edge Tire Service
For the best tire service for your Ford Edge, visit the team at Ray Price Ford today. 
We serve drivers in Mount Pocono, Tobyhanna, and Scranton. For the tires that make your drives through Pocono Pines, and Blakeslee as fuel-efficient and comfortable as possible, turn to our experienced team today!