With four uniquely powerful engine options, Selectable Drive Modes, and drivetrain options, the 2020 Ford Escape MPG helps make it a crowd-pleasing SUV. Whether you're taking a road trip or commuting to work, the Ford Escape gets you there efficiently.
Curious about what factors help maximize gas mileage in the 2020 Ford Escape around the Mount Pocono, Scranton, and Pocono Pines areas? That's the question we at Ray Price Ford want to answer for our Tobyhanna and Blakeslee customers. Below, we take a deep dive inside the impressive 2020 Ford Escape's MPG.
2020 Ford Escape Engine Specs and MPG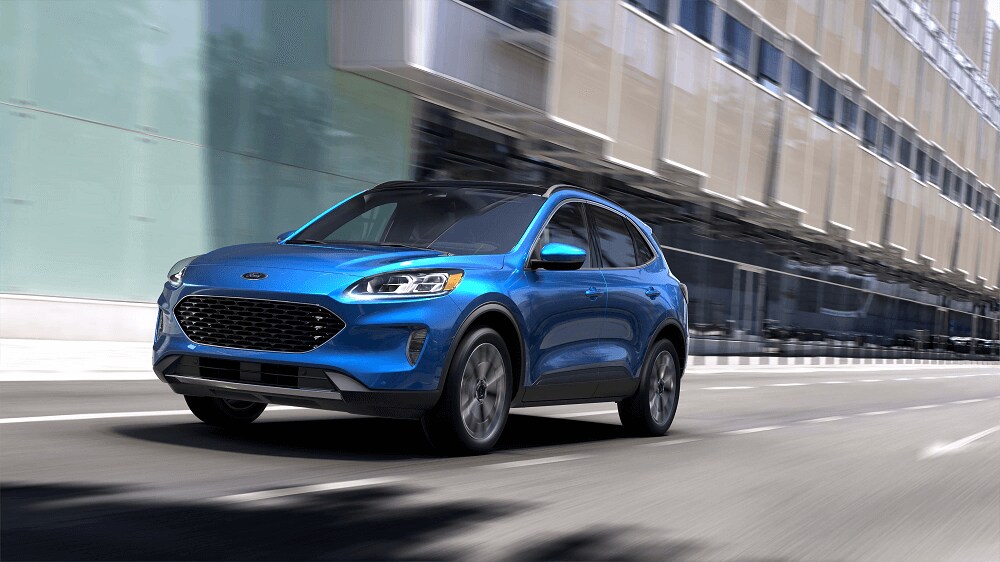 A major consideration when discussing the Ford Escape gas mileage numbers is what's working under the hood. For Ford Escape drivers, there's a lot of variety here since there are four different engines to choose from-now including a hybrid option.
1.5L EcoBoost®
The 1.5L EcoBoost® engine comes standard with an 8-speed automatic transmission. Paired with a front-wheel drivetrain, it helps you achieve an EPA-estimated fuel economy of 27 city/33 highway MPG. Plus, with a maximum towing capacity of 2,000 pounds, you can hook up a pop-up tent trailer for a glamping getaway.
2.0L EcoBoost®
With the 2.0L EcoBoost® engine, drivers enjoy the flexibility of an 8-speed SelectShift® transmission. Choose between the ease of an automatic or turn things up a notch with the more engaging feel of a manual transmission. Enjoy an EPA-estimated 23 city/31 highway MPG from this standard powerhouse with all-wheel drive.
This engine also enables you to tow up to 3,500 pounds! Say hello to family vacation upgrades all around when you bring along the camper or take the jet skis to the lake.  
Hybrid 2.5L iVCT Atkinson-Cycle I-4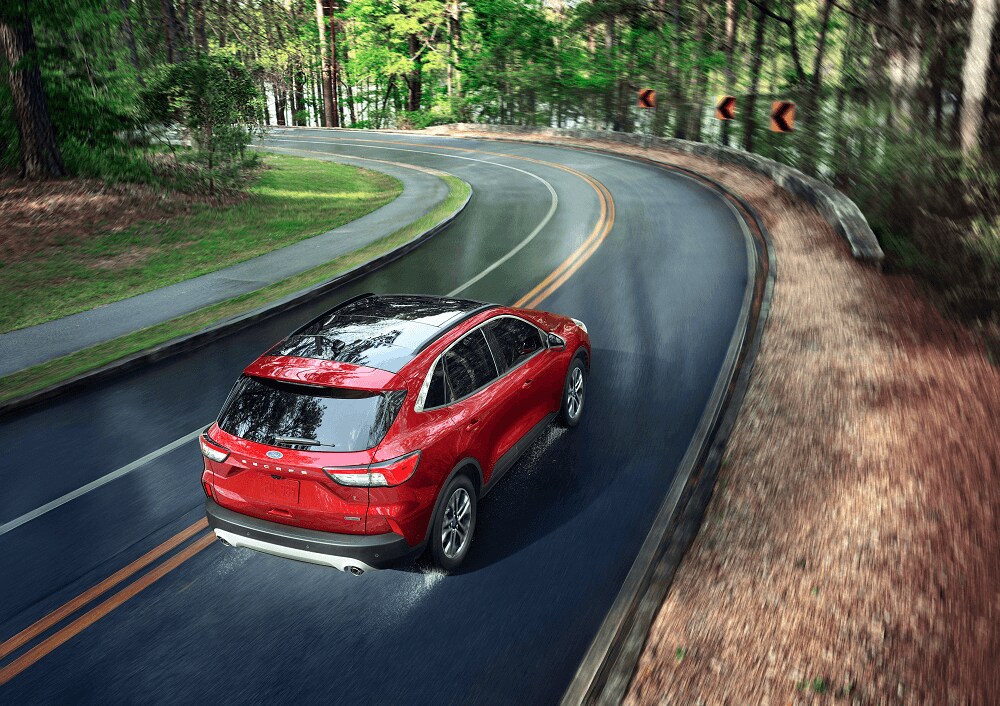 The electronically controlled continuously variable transmission (eCVT) in the Hybrid 2.5L iVCT Atkinson-Cycle engine pairs with an 88-kW electric motor. Car shoppers will find this incredibly efficient hybrid engine standard in all 2020 Ford Escape hybrid and plug-in hybrid models. With an EPA-estimated fuel economy of 44 city/37 highway MPG, you can cruise freely for miles.
Plug-In 2.5L iVCT Atkinson-Cycle I-4
The Plug-In Hybrid 2.5L iVCT Atkinson-Cycle engine offers both a Level 1 and a Level 2 AC charging port for your convenience. The 110-volt Level 1 charger reaches full charge after about 10 to 11 hours. However, with the 240-volt Level 2 charger, it takes roughly just 3.5 hours! Storing the battery underneath the vehicle further opens space throughout the cabin for you to stretch out or load up with luggage.
When properly equipped, both 2020 Ford Escape Hybrid models can tow up to 1,500 pounds. So, no matter which 2020 Ford Escape model best suits your lifestyle, you can rest assured you'll have options.
Efficient Ford Escape Technology

To keep its fuel economy numbers high, the Ford Escape offers several efficient technologies that keep this SUV working smart. Regardless of which engine you choose, move forward with confidence knowing your 2020 Ford Escape was made to save.
EcoBoost® Engines Explained
The EcoBoost® engines are designed with efficiency in mind. These engines utilize direct injection to prevent fuel waste by delivering fuel directly into the combustion chamber. They also feature a turbocharger that reuses any surplus energy to rotate a turbine and pressurize air into the combustion chamber. By providing almost instant on-demand power, this further improves output per liter.

Auto Start-Stop Technology
Both of the available EcoBoost® engines also feature energy-saving Auto Start-Stop Technology. When your car makes a prolonged stop, like at a red light or in stand-still traffic, this technology will power down your engine so it's not idling and wasting energy. Once you get moving again, your engine springs back to life as soon as your foot hits the accelerator.
All-Wheel Drive Disconnect
While front-wheel drive is the most fuel-efficient drivetrain available for the 2020 Ford Escape, the optional All-Wheel Drive (AWD) Disconnect unites fuel efficiency with maximum traction.
Specifically designed to save gas, this drivetrain disables the rear driveline when the system detects AWD is no longer needed. By allowing only the front wheels to move your 2020 Ford Escape forward, it makes things easier on the drivetrain, which in turn helps reduce drag.
2020 Ford Escape: Selectable Drive Modes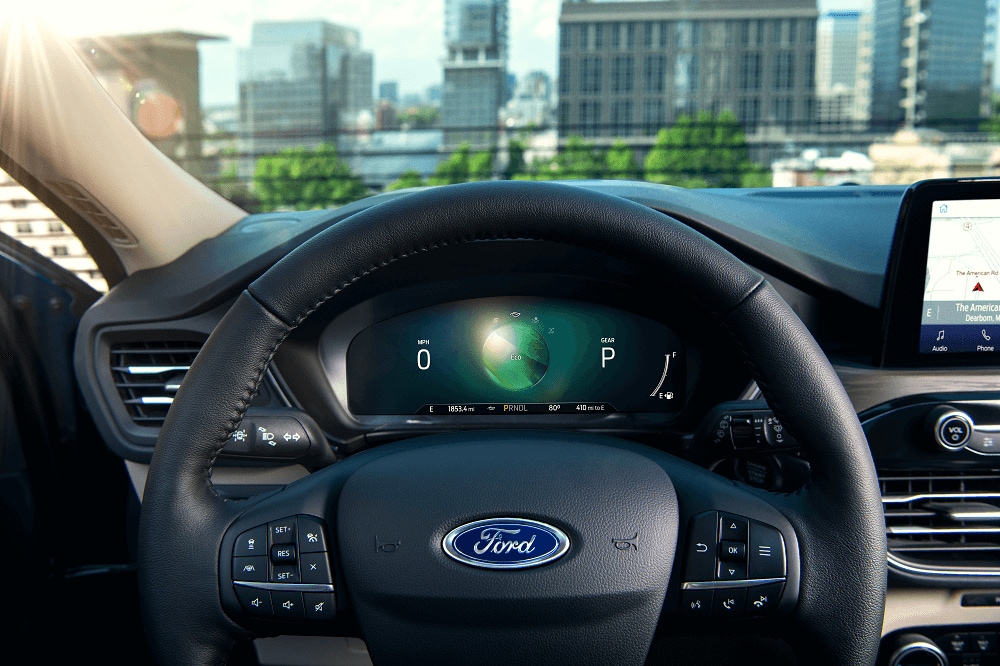 The available Selectable Drive Modes in the 2020 Ford Escape include Eco, Sport, Slippery, Normal, and Deep Snow/Sand. These five unique drive modes expand the versatility of your Ford Escape and empower you to break new ground with confidence. Automatically adjusting things like traction control and electronic stability control systems, these modes offer smooth, efficient transitions.
Eco Mode
For impressive driving range and maximum fuel efficiency, switch the dial to Eco mode. Pair convenience with eco-friendly driving in your 2020 Ford Escape.
Sport Mode
When you want some extra thrill, Sport mode's responsive throttle and quick shifting takes you there. Spice things up with Sport mode!
Normal Mode
Normal mode is all about balance and harmony. Ideal for daily commutes, errands, and frequent trips, Normal mode delivers a comfortable, reliable ride.
Slippery Mode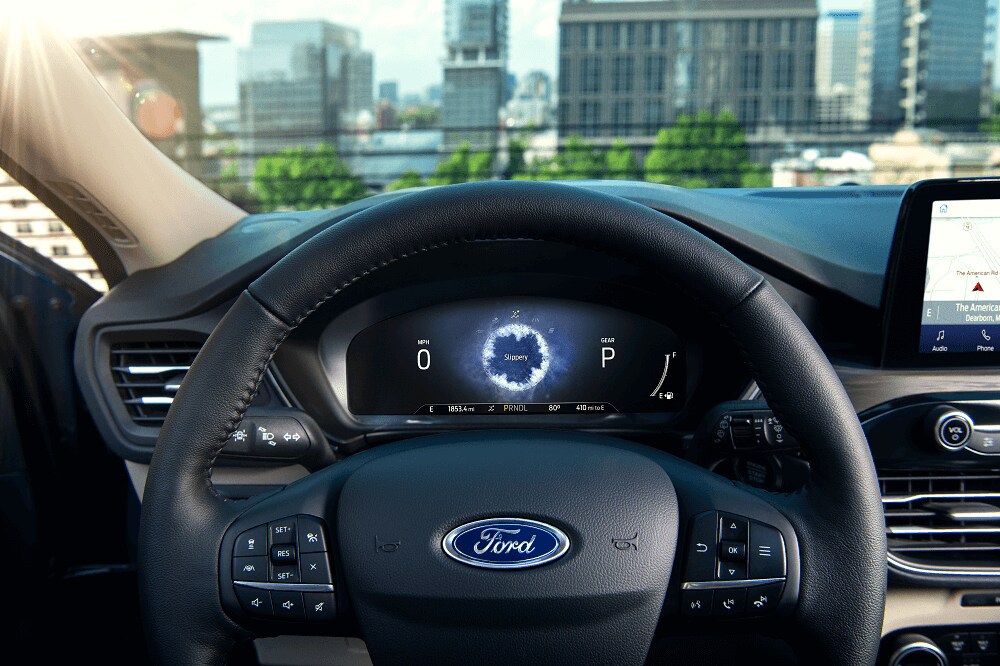 When the ground gets slippery due to ice, water, or even a small amount of sediment, Slippery mode has you covered. Regardless of the weather or road conditions, this mode ensures maximum traction moving forward.
Deep Snow/Sand Mode
Even in extensive snow or sand, this mode helps you maintain control of your 2020 Ford Escape. Explore openly all winter long or at the beach.
All in all, the optional selectable drive modes in the 2020 Ford Escape empower drivers to greet each new day and road head-on. Seize the moment with the adaptable Ford Escape!
Let's Talk Ford Escape MPG
If you want to learn more about the 2020 Ford Escape MPG capabilities and how to make the most of this SUV during your drives around Blakeslee, Pocono Pines, and Tobyhanna, pay a visit to us at Ray Price Ford and we'll show you around. We also look forward to helping Mount Pocono and Scranton drivers get behind the wheel.
Give us a call or schedule a test drive to experience the fuel-efficient Ford Escape today!