The number one way your car communicates with you as its driver is through a series of specific dashboard light notifications alerting you whenever an issue is present, or a feature is engaged. The Ford Explorer comes equipped with its own set of dashboard lights and some warn you about serious mechanical issues. Which means it's important you understand all the various indicator lights that are bound to appear.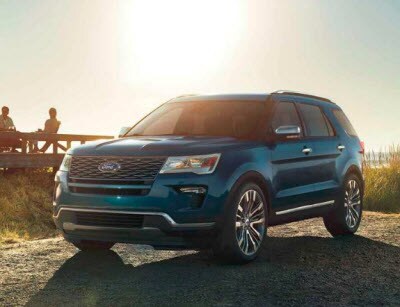 Our team at Ray Price Ford in Mount Pocono compiled a comprehensive guide of dashboard alert symbols in hopes of making you more aware of the Ford Explorer's warning signs. 
Take a look at this guide the next time an unfamiliar symbol appears on your dash, so you can continue driving around the Blakeslee, Pocono Pines, Scranton and Tobyhanna areas with confidence.
Adaptive Cruise Control (ACC)
You'll notice what looks like a car floating on top of a speedometer when ACC mode is on or engaged. The lighted symbol will change color to show the mode your system is in.
White: ACC is on.  OR   Green: ACC is engaged.
Auto Start-Stop
A letter A with a circular arrow around it will pop up. It only turns on when the engine is automatically shutting down so you can save fuel at a stop sign or traffic light while the engine rests.
Anti-Lock Braking System (ABS)

The letters ABS will light up inside of a circle if there are any issues with this system. Contact your local Ford dealer for an inspection right away. Your normal braking system will continue functioning, but you won't want to delay a service check.
Brake System
The word BRAKE will light up. The warning could indicate your parking brake is on. Or, the fluids could be low. Call for a service check as soon as possible.
Blind Spot Monitor
One car in front of another will appear with the word OFF. You'll only notice this dashboard light when the monitoring system is off.
Electric Park Brake
A zig-zagging arrow pointing down inside of a circle illuminates on the dash whenever there is an issue with the electric park braking system.
Engine Coolant Temperature

An illuminated thermometer underwater pops up if your engine coolant temp is too high. When this light appears, you should immediately pull over and turn off the engine so it can cool.
Engine Oil
This notification resembles an oil can and will turn on while you're driving if there's been an engine malfunction or the oil levels run too low. You should stop to check your oil levels as soon as you can.
Heads Up Display
The Heads Up Display light looks like a horizontal bar with several small lines surrounding it. It appears when you're using ACC or the available collision warning system, just as a check.
Lane Keeping Aid 
Two dashed lines surrounding a car will appear to indicate the lane keeping system has been activated.
Low Tire Pressure Warning

A bracketed exclamation point appears whenever your tire pressure is low. This symbol means one or more of your tires lacks the sufficient amount of air and will need to be filled as soon as possible.
Powertrain Fault
A wrench pops up on your dash whenever a fault in either the powertrain or the all-wheel drive system is noticed. You'll need to schedule a service visit right away.
Service Engine Soon

A simple illuminated engine will appear whenever the onboard diagnostics system senses an error in the engine. The engine will blink if misfiring is occurring. Once again, you should schedule a service visit as soon as you can.
Stability Control
A car driving down a curvy road indicates the stability control function is engaged and working and that road conditions are slippery. It should appear for a few seconds whenever you start your engine. If not, there's likely a malfunction.
Maintain Your Car's Health at Ray Price Ford in Mount Pocono
Our highly trained service professionals are equipped with state of the art technology and have the know how skills to fix the mechanical problems your dashboard notifications are communicating here at Ray Price Ford in Mount Pocono. 
If you need an oil change or perhaps more serious repairs, our automotive technicians can clear your mind of worries and your dashboard of those odd symbols.
Ford Explorer drivers throughout the Blakeslee, Pocono Pines, Scranton, and Tobyhanna areas can easily schedule a service appointment by checking out our website. 
Learn more about our service team and their capabilities today.