If you're looking to sell your car, you've come to the right place. At Ray Price Ford, our team loves taking in used vehicles to sell to customers in the Mount Pocono, Tobyhanna, and Scranton areas. This not only provides them with a great deal, but it'll earn you some extra cash, as well. So, end your search of where to sell my used car, and turn to us today!
Selling Your Used Vehicle
Our dealerships take in all types of pre-owned cars, even if they weren't purchased here in the first place. Although we do accept trade-ins to get credit toward another vehicle you're purchasing, you don't have to buy from us to sell.
This process is fast and easy and truly helps us out. Since we always want to have a large inventory of pre-owned cars for our customers to choose from, continually adding more inventory is just the way to do that. That is where you and your used vehicle comes in.
Receiving a Quote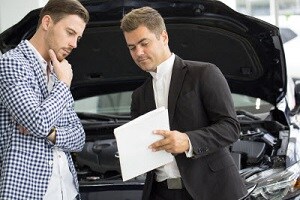 When it comes time to sell your car, we have a few online tools to help you with the process before you even step foot on the lot. First, we want to provide you with an upfront, no obligation quote of the value of your vehicle. Submit your information and an associate will get back to you shortly.
You can also use our other tools to get quotes and compare with what we can and will offer you. Check out our KBB Instant Cash Offer and take a look at our inventory to see what similar cars are selling for.
If you're thinking of trading in your vehicle for a new one, we offer incredible specials and finance deals to help lower the price even more with the trade in! Browse around and find something that you like, then fill out our credit application.
Sell Your Used Car to Ray Price Ford Today
If you've been asking around about where to sell your used car, our dealership is here to help. Contact us today for more information! We're always happy to help car sellers in the Mount Pocono, Tobyhanna, and Scranton areas.