With a population of roughly 77,000 people, Scranton, PA, is one of Pennsylvania's most prized cities. Its rich, coal-mining history has furnished its streets with unique architecture and fascinating destinations for families and tourists to see.
With a variety of available transportation in Scranton, PA, you can easily get across town. But for the most convenient travel possible, you'll want to have a dependable vehicle. Choose your next used car from the massive selection presented at Ray Price Ford. Visit us today to see everything we have to offer!
Choose Your Used Car Near Scranton, PA!
Shopping for a used or certified-preowned vehicle can be tough. At Ray Price Ford, though, our comprehensive lineup of used trucks and cars will ensure that you find the one that's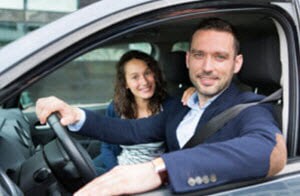 perfect for your lifestyle. 
Our associates will guide you through our hundreds of available vehicles so that you're presented with all the options.
You can also opt to browse our online inventory within leaving your home. 
By doing this, you can view several different vehicles within a matter of seconds. 
Plus, each listing contains a detailed description of the amenities provided within your selection. 
Based on which used car you're currently viewing, our system will suggest other vehicles with similar builds and devices. 
That way, you can weigh all your options before making a final decision.
On top of that, each of our certified pre-owned Fords is backed by a manufacturer's seal of approval. With an extensive checkup performed on each vehicle, you can be certain that you've purchased a quality automobile.
Unparalleled Dedication To Each Customer
Ready to take your favorite used car home? 
Our financing department will discuss every aspect of the buying procedure so you'll always remain informed. 
No matter what your credit standing is, we'll work with you to secure the loan options you're entitled to. 
Start your own car-buying journey today by completing our financing application.
This will assist you in understanding your payment choices.
At Scranton's used car dealer, our commitment to you continues beyond the showroom. 
We supply all our customers with an advanced service facility so you're satisfied with every visit. 
By allowing us to perform maintenance and repairs on your used car, you're making a wise decision to keep your vehicle in excellent condition. 
Next time you see a dashboard light pop on or you notice something odd, stop in for a consultation. 
We'll have your car fixed up in no time.
Test Drive Today at our Scranton Car Dealer!
By choosing us as your Scranton car dealer for your next used vehicle, you're taking the first step in equipping yourself with a quality ride. With years of training and experience, our staff will support you along the path to finding your ideal car. Discover every delightful aspect of our used automobiles by scheduling a test drive today! Before you know it, we'll have you soaring down the roads of Scranton, PA.