At Ray Price Ford, we want to help educate drivers throughout Blakeslee, Scranton, and Pocono Pines on all things related to car maintenance, and that includes answering area residents' most pressing questions.
So, let's get down to it: How long does it take to get an oil change?
Several factors affect the length of time that Tobyhanna and Mount Pocono drivers may find themselves waiting for an oil change, but it generally takes no more than 15 to 45 minutes. You can break down that time further to understand how the process pans out-and we're happy to do that for you here!
Oil Change Timeline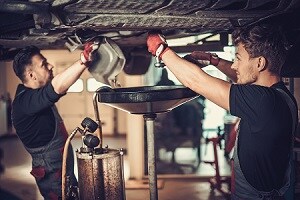 We know you have a busy schedule, and you may be wondering how long you'll have to wait at the dealer for your oil change to be performed. The 15 to 45 minutes it takes to complete an oil change is typically spent on the following tasks:
Raising Your Car, to put the oil drain plug within easy reach.
Removing the Oil Drain Plug and Draining the Oil, which can take up the bulk of the time.
Changing the Oil Filter, so your new oil will stay free of dirt and contaminants longer.
Plugging the Oil Drain and Adding New Oil, so your car is ready to go!
The time it takes to get an oil change can vary depending on your technician's process, the type of vehicle you drive, and the number of technicians working on your car at one time. However, you shouldn't find yourself waiting too long!
How Often Do I Need an Oil Change?
Oil changes should be performed regularly to keep your engine in good repair. Generally, you should have your oil changed every 6 months or 6,000 miles-whichever comes first. For most drivers, this will mean semi-annual oil changes each year.
However, your interval may be different depending on the car you drive and the oil you use. Synthetic oil users, for example, can often go up to 12 months or 12,000 miles without an oil change-or even longer. We recommend that you check the maintenance schedule in your vehicle owner's manual to get the right interval for your make and model.
Why Exactly Do I Need Oil Changes?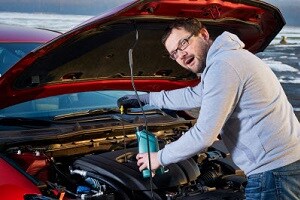 It can be tempting to neglect service because of the time, energy, and value investment you need to make. We can assure you, though, that it's a worthwhile investment. Oil is the lifeblood of your engine, and it helps the moving metal parts in your engine work together without generating excess friction and heat.
Without it, those parts would wear down and your engine might suffer serious, irreversible damage due to overheating. Besides being a safety hazard, a damaged engine can be extremely expensive to repair or replace. Have your oil changed regularly, and you can avoid these problems and keep your engine running strong!
Schedule Your Next Oil Change with Us
Has it been a while since your last oil change? Have you noticed odd smells, sounds, or exhaust emitting from your vehicle-or even a glowing "Check Engine" light? All of these are signs that you need to get off the roads of Scranton or Pocono Pines and schedule an oil change immediately.
You can do it right here at Ray Price Ford, your dealer serving Mount Pocono, Tobyhanna, and Blakeslee. We'll have your service performed quickly and make sure you're comfortable in our waiting room, which is well-stocked with all the essential amenities!