If you're looking for an SUV to help you get around Mount Pocono, Allentown and Scranton, your top selection is the Ford Escape. With the Ford Escape, you'll be getting a wide range of excellent features, including the towing capacity that you need to haul your important equipment wherever you go.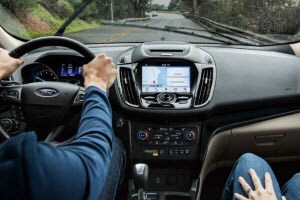 Before you get behind the wheel, you need to learn about the Ford Escape towing capacity. Here is some information about the Escape towing capabilities that you should consider when you're looking for an SUV capable of hauling heavy loads.
Ford Escape Towing Capacity
If you're not familiar with a vehicle's towing capacity, then you might not be aware that your towing capacity will depend on your engine. With the Ford Escape, you'll have access to three different engines, all of which have different towing capacities.
Ford Escape Towing Capacity Quick Facts:

2.5-Liter I4 Engine:

1,500-pound towing capacity

1.5-Liter EcoBoost I4:

2,000-pound towing capacity

2.0-Liter EcoBoost I4:

3,500-pound towing capacity
The standard engine of the Ford Escape is a 2.5-liter I4. With this engine, you'll have a towing capacity of 1,500 pounds. 
The next engine is a 1.5-liter EcoBoost I4, which provides a towing capacity of 2,000 pounds. 
Finally, if you want the most towing power possible, you can choose the 2.0-liter EcoBoost I4 engine and its 3,500-pound towing capacity.
Review the different Ford Escape Trim Levels by Ray Price Ford.
Ford Escape Towing Features
If you plan to use your Ford SUV to tow a trailer that is over 2,000 pounds, then you will need to equip your vehicle with the available Class II Towing Package. 
With this package, you'll have all the features that you need to connect and haul your trailer on your next road trip.
To help you easily connect your trailer to your Ford Escape, the Class II Towing Package includes a factory-installed trailer hitch receiver and a 4-pin trailer wiring harness. 
The Escape also has an available trailer sway control that helps you better control your vehicle and trailer when you're on the road. 
Ford Escape Safety Towing
Towing a trailer is a lot more difficult than you might imagine, particularly if you've never done it before. If you want to make the most out of your Escape towing capacity, it's a good idea to get a few tips for safely operating your vehicle while you're hauling a trailer.
Primarily, you need to be certain that your Ford SUV is equipped with the right braking system. 
Ford recommends that you choose a separate functional brake system that will work with a wide variety of towed vehicle. 
These brake systems can include surge brakes, electronically controlled brakes and electric-over-hydraulic trailer brakes. 
You should also be sure you're using safety chains, trailer lamps and your trailer wiring harness.
Test the Ford Escape Towing Capacity Today
The Ford Escape is your top SUV choice when you need a vehicle capable of hauling your important equipment. If you have any questions about the Ford Escape towing capacity, you need to visit Ray Price Ford today to schedule a test drive.
Ray Price Ford is focused on offering our customers in Allentown, Mount Pocono and Scranton with a great selection of new and pre-owned vehicles. Tour our lot with the guidance of our knowledgeable sales staff and you'll easily be able to find a vehicle that fits you like a glove.
You May Also Like: